GUIDED TOUR
Guided Bike Tour - Golden Gate Bridge to Sausalito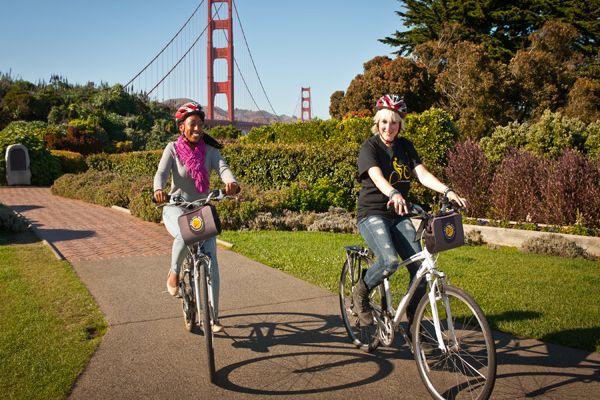 TOUR BESCHREIBUNG
Enjoy this Guided Bike Tour across the most famous bridge in the world to charming Sausalito!
Guided 3-hour Bike Tour
Ride across the Golden Gate Bridge
Knowledgeable and fun guides
Wichtige Informationen
Departure Point
2661 Taylor Street Tour Center (Located midblock between North Point & Beach Street)
Departure Times
Days of Operation
Duration
Know before you go
Dress in layers as it can be cold on the bridge
Riders are advised to arrive about 30 minutes early for proper bike fitting
Cancellation Policy
Cancellations made within 72 hrs of rental date are non-refundable
Safety Measures
Masks: We wear masks and require our customers to do so as well- throughout the rental and bike giveaway process
Cleaning and Sanitizing :
All touch surfaces are sanitized between uses and tours.
Our disinfectants meet EPA criteria for use against coronavirus on all of our equipment.
We have hand sanitizer and wipes available onsite for your convenience.
Outdoor Bike Giveaway: We are able to take care of you, give your bike to you, and have you test drive all outdoors, in the fresh, circulating air.
Tour Guide Safety: Tour guides wear masks throughout the tour and appreciate all riders doing the same.
Mehr Informationen
The up to 3 hour guided bike tour begins in Fisherman's Wharf. After a proper bike fitting, you depart and follow the guide along the San Francisco waterfront. Passing Aquatic Park, Fort Mason, the Marina, and the Presidio, you will ride all along to Crissy Field and to Fort Point.
The highlight of the tour will be the crossing of the iconic Golden Gate Bridge and a stop at North Vista Point with amazing views of the San Francisco Bay, including Alcatraz Island.
The tour finalizes in charming Sausalito where you can go for stroll along the water, enjoy the shops and many art galleries, or try some delicious food at the waterfront restaurants. You can return right after the tour completes on a ferry (tickets purchased onsite) or you may keep the bike until closing hours (additional cost may apply), enjoying an additional adventure on a bike ride unmatched.
You will be outfitted with a comfort bike. a helmet, front handlebar bag, rear gear rack, and takeaway map.
*riders are advised to arrive about 30 minutes early for proper bike fitting.