San Francisco Self Guided Bike Tour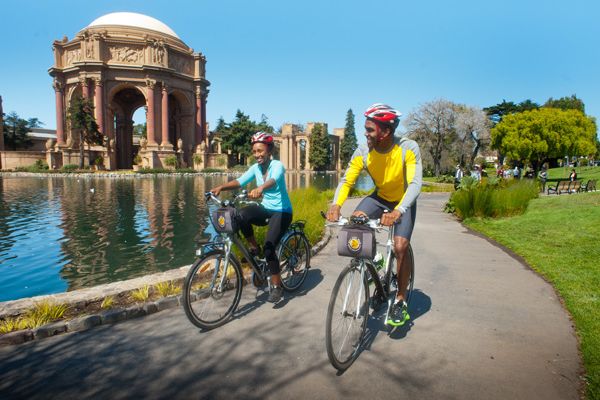 TOUR BESCHREIBUNG
Choose your own itinerary! Cross the Golden Gate Bridge or explore Golden Gate Park.
Bike rental at your leisure (comfort bike)
Chose Comfort Bike or Electric Bike
Helmet and map are provided
Wichtige Informationen
Departure Point
Fisherman's Wharf - 2661 Taylor Street, San Francisco, CA 94133
or Golden Gate Park (behind the Bandshell at the Music Concourse)
Duration
Flexible, up to 1 day rental
Know before you go
Bike rental for comfort bike (standard bike, not electric)
Dress in layers as it can get cold in certain parts of the city
A liability waiver must be signed at the beginning of each tour by all guests age 18 or over
Cancellation Policy
Cancellations made within 72 hrs of rental date are non-refundable
Safety Measures
Required to wear masks when engaging with staff and other customers.
We are offering curbside service for all rentals and guided bike tours.
We have re-designed our shop so that rental and tour service happens at the front door.
Guests will complete paperwork, be given route instructions, and be shown their bikes all without ever having to enter inside the facility. Our new open-air policy ensures the safety of our staff and our visitors alike.
We kindly ask you for your responsibility as well to follow all health & safety guidelines from the City of San Francisco as well as any instructions from our staff to assure that we can all tour together safe and happy!
Mehr Informationen
A bike ride unmatched! Enjoy this self-guided bike tour on your comfort bike and see the spectacular sites in San Francisco and the surrounding areas, all at your own pace!
Bike where you like! You can choose to ride through any neighborhood in San Francisco and enjoy the freedom of going wherever the path leads you. Departing from Fisherman's Wharf or Golden Gate Park, it will be very easy to explore San Francisco on your own.
Ride along the Marina with amazing views of the Golden Gate Bridge or stop by the Palace of Fine Arts to walk around the lake and visit the swans. Cut an easy ride through Golden Gate Park to see the bison up close, or check out the world-renowned California Academy of Sciences and the deYoung museum, the most dramatic fine arts museum in the United States.
Take your bike across the iconic Golden Gate Bridge and picnic in Sausalito or stop by at one of their waterfront restaurants with some of the best views of the San Francisco Bay. Whatever spectacular ride you choose, we will make sure you are equipped with the best gear and have an unmatched experience in San Francisco.
You will be outfitted with a comfort bike (standard bike, not electric), a helmet, front handlebar bag & rear gear rack, map, and route instructions. You tell us how many miles you wish to ride and our staff will show you the best routes for your fabulous day!