All guests must be 12 years or older. Weight 100-250lbs (45-114kg)
CURRENTLY NOT AVAILABLE
Waterfront & North Beach Segway Tour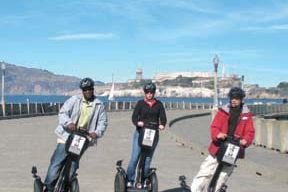 TOUR DESCRIPTION
Tour the piers of world-famous Fisherman's Wharf and explore the hidden alleys of historic Little Italy in North Beach. Longer tour = more time to enjoy spectacular views of Alcatraz, the Golden Gate Bridge and the amazing waterfront on this fully narrated tour!
Segway Rental
30-40 min training session
Gratuity
Meals
Important Information
Starts
Tours depart from 417 Beach Street, San Francisco
Duration
Tour Schedule
April - October: Daily 9:00am, 12:30pm & 4:00pm
November - March: Daily 10:00am & 1:30pm
Closed Thanksgiving Day, Christmas Day and New Year's Day
MORE INFORMATION
TOUR OVERVIEW:
The San Francisco Wharf and Waterfront Segway Tour is the most sensational way to see the City by the Bay. You will love gliding through the waterfront on our New Fleet of Segway I2's Human Transporter - with Lean Steer. This one-of-a-kind fully guided and narrated experience takes you on a memorable and fun filled tour along San Francisco's picturesque waterfront and along Fisherman's Wharf. A city as unique as San Francisco demands a unique way to tour it, and Segway is the answer!
TOUR ITINERARY:
The Segway Tour route follows the waterfront and allows guests great views of San Francisco Bay and the City Skyline. After a 40 minute training session on how to safely operate the Segway, you will explore the San Francisco waterfront for two hours. Tours are limited to ten riders per tour guide. Each guest is issued a compact radio receiver so they don't miss a detail of what the guide is saying about each site seen on the tour. Numerous stops are made for photos - so don't forget your camera.
TOUR HIGHLIGHTS:
Cable Car turn-around
National Maritime Museum
Municipal Pier and Aquatic Park
Historic sailing ships at Hyde Street Pier
WWII Liberty Ship and Submarine Pampanito
Ghirardelli Square - home of delicious chocolate
Spectacular views of Alcatraz and the Golden Gate Bridge
Fisherman's Wharf, Dungeness Crab Stands, and picturesque fishing harbors
Loop through North Beach San Francisco's Little Italy
What to wear: Comfortable closed toe and flat shoes. No high heels, flip flops or sandals. Bring an extra layer of warm, wind resistant clothing. Rain ponchos, knit gloves and warm jackets are available for guest use. Please leave bulky backpacks at home.
Rider & Training Requirements: All guests must be age 12 or older. Riders under 18 must be accompanied by a parent or guardian on the tour. All guests must weigh between 100-250 lbs or 46-115 kilos. No pregnant guests are allowed due to safety reasons. This activity is not recommended for guests that are ages 70 years and older. Each customer must sign a Liability Waiver. All guests must be able to easily and quickly step on and off the Segway without any assistance. This requires physical abilities similar to climbing and descending stairs without assistance or use of a handrail. This tour is not ideal for people with mobility issues. Helmets and safety vests are provided and are required.