CURRENTLY NOT AVAILABLE
7D Experience XD DarkRide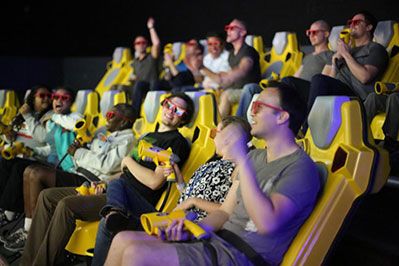 TOUR DESCRIPTION
A 3D interactive virtual roller coaster and laser-blasting thrill ride. With state-of-the-art effects, you will compete against fellow Riders for the highest score.
1 DarkRide admission
Additional Rides
Souvenirs
Photos
MORE INFORMATION
A 3D interactive virtual rollercoaster and laser-blasting thrill ride. Outfitted with your own laserblaster, you will ride, blast, and compete your way through the 'Zombie Apocalypse' or the futuristic Wild West where you battle marauding Robots. You can choose to follow a small boy through his seafaring adventures fighting menacing pirates, rescue your space crew from an alien onslaught, or save yourself from an old haunted gold mine!
Experience all this without leaving your seat in our state-of-the-art theater with stunning visual effects, superior sound technology and the sensations of falling, jumping and crashing along, on the most thrilling Ride in San Francisco!
Incredible Interactive 3D ride.
Challenge your senses.
Check out new ride experiences.