CURRENTLY NOT AVAILABLE
Guided Bike Tour - Golden Gate Park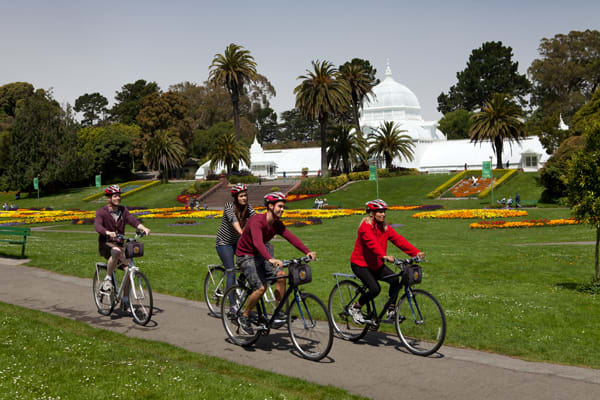 TOUR DESCRIPTION
Bike through the Golden Gate Park which houses the Japanese Tea Gardens, Botanical Gardens, Conservatory of Flowers, Bison paddocks, Spreckels lake and more. See Ocean beach at the edge of the park.
Bike for 6 miles inside the Golden Gate Park and out to Ocean Beach
Museum entrance fees and gratuity
Important Information
Starting location
Golden Gate Park (behind the Bandshell at the Music Concourse).
Duration
Operating schedule
11:00 am Daily (Mar-Oct)
*Does not operate from Nov-Feb
Know before you go
This tour is suitable for Beginner/Novice riders and is perfect family fun for all ages.
Electric Bike only available for adults 13 years +
MORE INFORMATION
The opportunities are endless inside the 1000+ acre park. During this tour, riders will see the Conservatory of Flowers, Arboretum/ Botanical Gardens, Shakespeare Garden and Japanese Tea Gardens. Circling around Stow Lake, viewing Strawberry Hill, learn some very interesting haunted ghost history! Later, out on the beach, we point out oceanfront bike path and sweeping sand dunes that shore up the city. Heading back, pass by the Bison paddock, Spreckels Lake and more. As the tours end, riders can visit our closest neighbors, California Academy of Sciences and the DeYoung – two world class museums.