AVAILABLE DAILY
Muir Woods & Sausalito Tour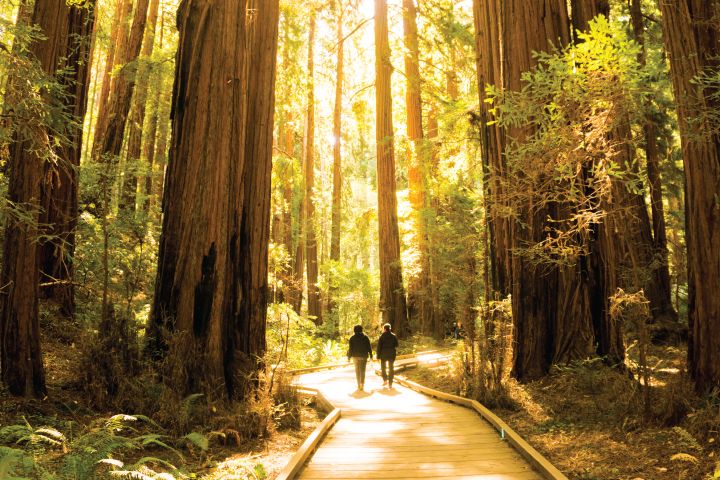 TOUR DESCRIPTION
Experience the awe and wonder of one of California's oldest redwood groves as you stroll through dedicated paths of 1000-year-old redwood trees.
- Tour to Muir Woods from San Francisco
- Entrance Fee Included (value $15)
- Cross the Golden Gate Bridge
- Explore Muir Woods and Sausalito
- Enhanced Hygiene & Safety Measures
- FREE CANCELLATION up to 24 hours
- Food & Beverages
- Tips & Gratuities
Important Information
Meeting Point
99 Jefferson Street (at the corner of Mason Street)
Duration
Know before you go
Please arrive at the meeting point at least 20 minutes prior to departure time.
Masks are required on this tour (see Safety Measures below).
Your tour ticket includes the entrance fee to Muir Woods ($15) as well as the parking fees, which will both incur as separate charges if you visit individually without any tour.
What should I wear?
Please dress in layers as it can be cold in the woods
Safety Measures
The Health and safety of our customers and staff is our number one priority, so we've introduced a number of enhanced health and safety measures.
Masks are required (fully vaccinated individuals may choose to not wear a mask if proof of vaccination is provided)
All buses are cleaned regularly.
All drivers and staff are wearing masks at all times.
Hand sanitizer is provided on most of the buses.
We kindly ask you for your responsibility to follow all health & safety guidelines from the City of San Francisco as well as any instructions from our staff to assure that we can all tour together safe and happy!
Cancellation Policy
Free cancellation upto 24 hours to the departure date
MORE INFORMATION
Overview:
Your tour starts at Fisherman's Wharf with a knowledgeable guide. You will drive over the iconic Golden Gate Bridge. Enjoy stunning views of San Francisco Bay and capture the unique structural details of this remarkable bridge, renowned for its international orange color.
Once you arrive at Muir Woods, you will have approx. 1.5 hours to explore the gentle walking trails within the national park. You can grab a map of the various walking trails at the Visitor Center. Stroll through the tranquil forest to see California's coastal redwoods, the tallest living things on earth. See redwood trees that are more than 250 feet tall and more than 800 years old in one of the last remaining stands of old-growth coastal redwood forest, sustained by temperate marine fog.
Afterwards, you will take a scenic drive through the coastal mountains on the Marin Headlands and Sausalito. Enjoy sweeping views of the San Francisco Skyline and the Pacific Coast from Sausalito. You can decide to get off at Sausalito should you like to spend more time there at your leisure. You can buy ferry tickets (not included), to return back to Fisherman's Wharf in San Francisco on your own.
RELATED PRODUCTS
AVAILABLE DAILY
- 1 day hop-on hop-off access to the Official City Tour
- Half-day Muir Woods & Sausalito Tour
- See some of the tallest Redwood trees in the world
- Cross the iconic Golden Gate Bridge with spectacular views of San Francisco
- Knowledgeable guide on board the buses
- Multi-lingual audio guide on the Hop-On Hop-Off City Tour
- Tips & Gratuities
- Additional wine tasting fees
Adult
US$139.99
US$129.99
Child
US$92.99
US$84.99
Available DAILY
Explore Muir Woods with its tall Redwood trees
Visit Sonoma Valley & Napa Valley
Wine tasting fees at 3 wineries included
Time for lunch in historic Sonoma Plaza
Knowledgeable English speaking guide
Cross the Golden Gate Bridge
Hotel pick up at most SF hotels
Tips & Gratuity
Meals
Entrance to Muir Woods ($15)
Adult
US$169.99
US$159.99
Child
US$122.99
US$115.99