LIMITED AVAILABILITY - BOOK NOW!
Alcatraz Package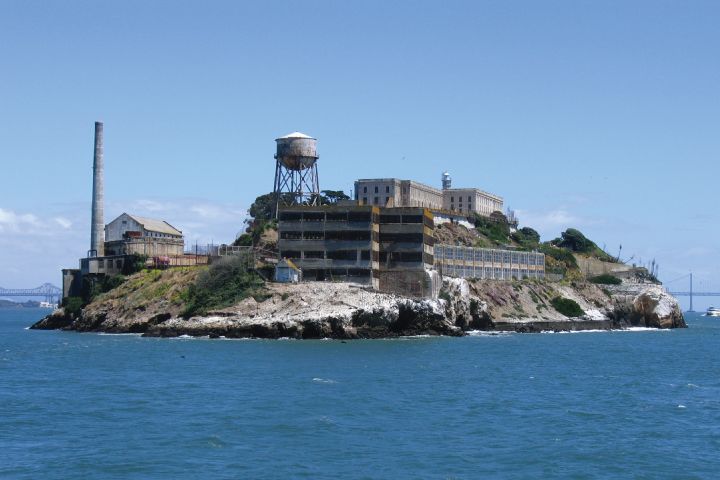 TOUR DESCRIPTION
This popular package includes a full tour of Alcatraz Island with self-guided cell-block audio tour, as well as 2 days of open-top Hop On Hop Off Sightseeing Tours, including the Official City Tour and the San Francisco Night Tour.
Alcatraz Island Tour (ferry to/from the island)
Award-winning self-guided audio tour
2-Day Hop-On Hop-Off Bus Ticket
San Francisco Night Tour
DISCOUNTS on bike rental
Limited availability, BOOK EARLY
Tips & Gratuity
Food & Beverages
Important Information
Important Information
The date you select on the calendar is your reserved Alcatraz date. You must redeem your voucher for the actual ticket online at least 48 prior to the tour date (further information will be provided with your voucher after booking). The bus tours are flexible and do not have to be started the exact same day.
Start location
Hop On Hop Off Tour & Night Tour start 99 Jefferson Street (at the corner of Mason Street)
Alcatraz Tour starts at Pier 33 (Fisherman's Wharf)
Start time
Alcatraz departure time varies (you will receive an assigned time when redeeming your voucher online)
Official City Tour - daily, every 20-30 minutes, between 9am and 5pm
Night Tour - daily at 6:30pm
Duration
Alcatraz Tour duration depends on how much time you spent on the island; we suggest to plan at least 3-4 hours for the entire experience (including boat ride and check-in)
Hop On Hop Off bus ticket valid for 2 days
Official City Tour approx. 2 - 2.5 hours
Night Tour approx. 60-90 minutes
Know before you go
Alcatraz departure times vary. Please keep your day flexible.
Hop On Hop Off at any of the stops along the route for convenience.
Bus tour is provided on a first come first serve basis.
Bus tours can start before or after your Alcatraz date.
Safety Measures
Masks are required.
All buses are cleaned regularly.
All drivers and staff are wearing masks at all times.
Hand sanitizer is provided on most of the buses.
We kindly ask you for your responsibility to follow all health & safety guidelines from the City of San Francisco as well as any instructions from our staff to assure that we can all tour together safe and happy!
Cancellation Policy
Free cancellation up to 30 days prior to departure. If cancelled less than 30 days, you will be charged 50% of the package price. Date changes are possible up to 7 days prior to departure without any fees.
MORE INFORMATION
Alcatraz Island Tour with award-winning audio tour & Hop On Hop Off Bus Tour of San Francisco
Great Value - includes 2 days of Open Top Bus Tours in San Francisco.
Entertaining and professional tour guides on the bus
Hop on and hop off at 20 stops throughout San Francisco
Enjoy a full tour of Alcatraz Island, including the award winning cellblock audio tour
Enjoy the city lights and skyline during the San Francisco Night Tour
Alcatraz Island Ticket "The Rock"
San Francisco's most famous attraction. Alcatraz tickets often sell out for up to 3-4 weeks in advance so it is recommended to make your reservations early.
Your Alcatraz Island tour departs centrally located from Pier 33 at Fisherman's Wharf and includes:
Transportation to and from the island from Pier 33.
45 minute audio tour "Doing Time: The Alcatraz Cellhouse Tour" featuring prisoners and correctional officers who used to live and work on Alcatraz.
Orientation Video presented by the Discovery Channel.
Stay as long as you like - ferries return every 30 minutes. Average length of stay is 2 -3 hours.
PLEASE NOTE: The date you select on the calendar is your reserved Alcatraz date. You must redeem your voucher for the actual ticket online (further information are given with your voucher after booking). The bus tours are flexible and can start on any day.
Hop On Hop Off Official City Tour - 20 stops
Available with Live Guide and Mult-lingual

This 2.5 hour tour provides the best views of all San Francisco has to offer. Be sure to bring your camera, there will be plenty of photo opportunities to commemorate your visit to the city by the bay. Highlights include:
Fisherman's Wharf – Located on the northern waterfront, this area is best known for Pier 39 (shopping, restaurants, sea lions and much more), San Francisco Maritime National Historical Park, the Cannery Shopping Center, Alcatraz Landing, and many other attractions.
Union Square - Home to of San Francisco's nicest shopping and popular nightlife.
Palace of Fine Arts – Built for the World Fair has been a favorite wedding location for couples throughout the San Francisco Bay area. Also a popular location for many festival celebrations, orchestras and events.
Golden Gate Bridge – A great place to walk across the Golden Gate Bridge or visit the Presidio and its former Military establishments
Golden Gate Park – An exciting place to visit a number of museums and attractions such as The Conservatory of Flower, The California Academy of Sciences and The de Young Museum.
Haight/Ashbury – More commonly known as the "Hippie District", Haight maintains the Summer of Love feel with its numerous shops and murals dedicated to the 1960's.
City Hall – Great photo opportunities of the San Francisco City Hall structures nearby to the Opera House, Symphony Hall and Bill Graham Civic Auditorium.
Chinatown - The largest outside Asia and a great area to spend a few hours walking around.
North Beach - Primarily Italian neighborhood, with dozens of authentic Italian restaurants and cafes
San Francisco Night Tour - Double Decker Bus
Experience the best views of San Francisco at night. San Francisco sparkles and our Night Loop is a safe and enjoyable way to see the city's brightest neighborhoods. The tour includes the Fisherman's Wharf, Financial District, Chinatown, North Beach, Embarcadero, Bay Bridge and Treasure Island to enjoy San Francisco skylines by night. Exact highlights may vary according to season, weather, and San Francisco's famous traffic.
RELATED PRODUCTS
Available DAILY
San Francisco Hop-On Hop-Off Tour
San Francisco Night Tour
Ticket valid for 48 hours
20 stops along the way
Cross the Golden Gate Bridge
Fun & informative audio commentary
DISCOUNTS on bike rental
FREE CANCELLATION
FLEXIBLE TICKET
Tips & Gratuities
Adult
US$78.99
US$73.99
Child
US$68.99
US$64.99