Things to do on Pier 39
Pier 39 is located on the San Francisco waterfront near the Fisherman's Wharf area of the city and is one of the most popular destinations for visitors to California. The pier is home to many great restaurants offering local seafood as well as other cuisines. If shopping is your thing you will find 90+ stores offering everything from souvenirs to sports memorabilia. Pier 39 is also where you can find fun and exciting attractions such as the Aquarium of the Bay and the 7D experience.
Pier 39 Tourist Information
Located at the entrance of Pier 39 to the left you will find the Pier 39 Information Kiosk (pictured above). The staff there will be able to help you with information and maps related to Pier 39 as well as information about San Francisco. You can also book Bus Tours, Bay Cruises, Napa and Sonoma Wine Country tours and much more.
On level 2 of Pier 39 you will find the Official California Welcome Center where you can get information on San Francisco and the rest of California. You will be book tours, get guidebooks, maps, souvenirs as well as discounts coupons for many of the restaurants and attractions on Pier 39. They provide luggage storage and pushchair and wheelchair rental also.
Click here for a detailed map of Pier 39
The Sealions at Pier 39
If you walk to the end of Pier 39 and visit K-Dock you will find the world famous sealions who have made the pontoons their home. The sealions first appeared after the 1989 Loma Prieta earthquake and began taking over the piers on the Pier 39 marina, much to the annoyance of the marina tenants. After numerous attempts to shoe them away they eventually had to give up and the numbers grew and grew reaching a peak of over 1500 in 2009. Today they have become one of the most popular attractions in San Francisco and have their own area of Pier 39. While there why not pay a visit to the Marine Mammal Center just upstairs from the viewing area where you can learn more about the sealions and pick up some sealion related souvenirs.
Where to eat at Pier 39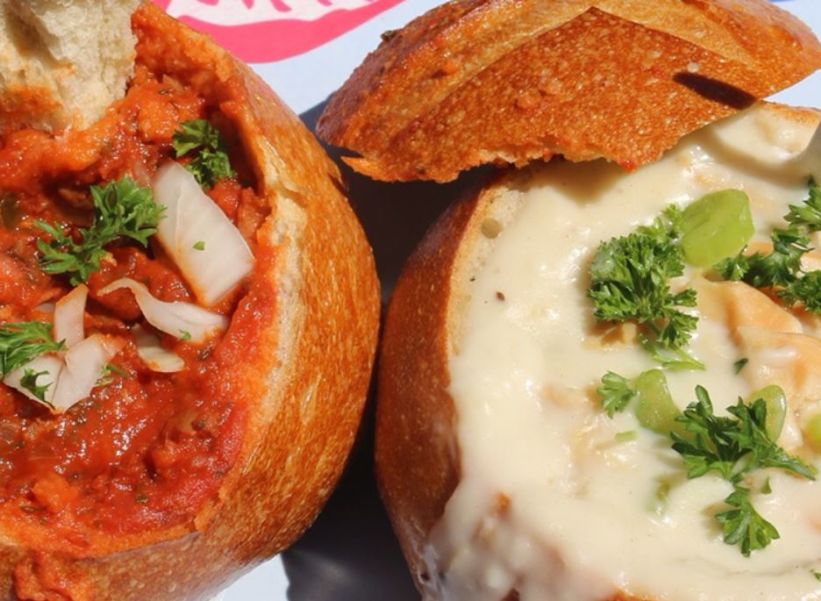 Pier 39 is the perfect spot for lunch or dinner. Choose from local restaurants offering locally sourced seafood or visit one of the chain restaurants that have made Pier 39 their home.
Restaurants include:
Hard Rock Café
Bubba Gump Shrimp
Chowders
Boudin Bakery and Cafe
The Hook
Trish's mini donuts
Eagle Café
Fog Harbor Fish House
Wipeout Bar and Grill
Shopping at Pier 39
Souvenirs, magnets, T Shirts, Spices, even left handed scissors, you can find it all at one of Pier 39s over 50 stores.
One of the main draws of PIER 39 is its wide selection of specialty shops, offering everything from sports gear and memorabilia to fine jewelry and classic San Francisco-themed gifts and collectibles. Visitors can take in the breathtaking views of the Golden Gate and Bay Bridges, Alcatraz Island, and the city skyline while browsing through the more than 50 unique stores. Whether you're looking for a new piece of jewelry, a souvenir to bring back home, or a special something for a loved one, PIER 39 has something for everyone.
Stores include:
Under the Golden Gate - Whether you're looking to frame a favorite photograph or find the perfect souvenir to bring back home, Under the Golden Gate has something for everyone.
Leftys San Francisco - The store offers a wide variety of items specifically designed for left-handed use, including pencils, scissors, notebooks, can openers, and much more. Lefty's San Francisco is the only store of its kind in the area, making it a must-visit destination for left-handed individuals.
The Spice & Tea Exchange - The Spice & Tea Exchange at PIER 39 is the perfect destination for foodies and cooking enthusiasts looking to add some flavor to their meals. The store offers a wide variety of savory spices, gourmet teas, and seasonings from around the world, allowing customers to explore new flavors and experiment with different cuisines.
The Shell Cellar - The store also offers a wide variety of ocean-inspired jewelry and home decor, making it the perfect destination for those looking to add some nautical charm to their home or wardrobe.
Magnetron - The store has a wide selection of magnets that feature popular San Francisco landmarks, such as the Golden Gate Bridge, Alcatraz Island, and the Cable Cars, making it the perfect place to find a souvenir to remind you of your trip to the city. You'll also find a variety of magnets featuring famous faces, food, animals, and many other themes, making it easy to find the perfect magnet
LOLA - At LOLA, customers will find a wide variety of unique, off-center items created by local designers. From clothing, accessories and home decor, the shop is sure to have something that will catch your eye and touch your heart. Whether you're looking for a special gift or just something for yourself, LOLA is the perfect destination for those looking for a one-of-a-kind shopping experience at PIER 39
Build-a-bear workshop - Build-A-Bear Workshop at PIER 39 is the ultimate destination for anyone who loves teddy bears and other stuffed animals. The store offers a wide selection of furry friends to choose from, allowing customers to create a one-of-a-kind companion. The process of building a bear is a fun and interactive experience, where customers can add stuffing, make a wish on a heart, and personalize their new friend with scents, sounds, outfits, and accessories.
Hot licks - A must-visit destination for hot sauce enthusiasts and those looking to add some heat to their meals. The store offers a wide variety of hot sauces, barbecue sauces, salsas, snacks, spices, and rubs, making it the perfect one-stop-shop for all your spicy needs. With a selection that ranges from mild to extremely hot, Hot Licks caters to all heat levels. They even carry products that are so hot, customers are required to sign a waiver before making a purchase. Whether you're a seasoned hot sauce connoisseur or just looking to add some flavor to your cooking, Hot Licks is sure to have something that will satisfy your cravings.
Lids - The ultimate destination for sports fans looking to show off their team pride. The store features licensed NFL, NBA, MLB, NHL, and collegiate apparel and accessories, making it the perfect place to find gear for your favorite teams.
Things to do at Pier 39
Pier 39 in San Francisco offers a variety of sights and attractions for visitors to enjoy. Some of the top sights at the pier include:
Open Heart: Discover the "Open Heart" sculpture at PIER 39, a part of San Francisco General Hospital Foundation's "Hearts in San Francisco" collection that supports the vital programs and initiatives of San Francisco General Hospital and Trauma Center. This unique piece, hand-painted by local artist Patrick Dintino, is permanently located on Level 1 at the picturesque Bay End of PIER 39. As a San Francisco native, Dintino's inspiration for this sculpture comes from his mother's life-saving open heart surgery more than a decade ago. "Open Heart" represents the larger idea of love and understanding self-concept, symbolizing the openness of our city's heart as well as the idea of falling in love with San Francisco.
Aquarium of the Bay: This popular attraction features over 20,000 marine animals, including sharks, rays, and sea otters. Visitors can take a journey through the Bay and see the diverse marine life that lives in the area.
San Francisco Carousel: This famous carousel offers breathtaking views of the Bay while you enjoy a ride.
7D Experience: This interactive ride allows visitors to experience a virtual reality adventure through the city of San Francisco.
Bay Plunge: Experience breathtaking 360-degree panoramic views of the San Francisco Bay with the Bay Plunge ride. Accommodating up to twelve riders at a time, the ride takes you forty feet up a spire for a thrilling rotation. As you drop through a centrifuge of weightlessness and rotating joy, catch your breath before being shot skyward toward the top of the spire for another thrilling drop.
Frequent Flyers: Get a unique perspective on PIER 39 with Frequent Flyers, a bungee trampoline suitable for people of all ages. Jump up to 20 feet high while safely performing aerial acrobatics.
Magowan's Infinite Mirror Maze: this mirror maze is a fun and exciting way to explore the pier.
Street Performers: Pier 39 is home to a variety of street performers, from musicians to magicians, that entertain visitors with their talents.